Case Study: Progress in Sales Effectiveness
Yields Short-Term Sales Gains
We frequently use this newsletter to talk about an issue gaining importance in the life sciences industries -- sales force effectiveness. One thing we've learned during our eight-year history is that improving long-term sales effectiveness is not easy. It requires continuous sponsorship by senior management and ongoing cooperation among internal functions that support or interact with the sales organization.
But, improving SFE is possible. To motivate you to continue working on SFE even when progress seems elusive, we'd like to share the experiences of one of our clients who achieved remarkable customer frequency improvement in the first six months of its SFE initiative.
This is the story of a market-leading company that 18 months ago did not report or measure sales activity. Its managers focused solely on sales results, not the sales behaviors driving those results, until a European CRM implementation across more than 15 countries provided the impetus to begin reporting and analyzing call activity.
Once sales representatives began reporting call activity, the company asked RMCI to help develop a baseline for measuring frequency performance. Analysis of the first six months of reported call data confirmed a situation that is common among most companies that do not rigorously manage sales activity: overall, frequency attainment on key customers was highly variable and generally low. Managers were surprised to learn how few customers were visited with the desired frequency.
Customer frequency – what's really happening in the field?
The initial diagnostic analysis revealed many other potential opportunities to improve sales performance. Up to 30% of effort in some countries was expended on non-target customers, while most target customers were seen with frequencies well below those considered desirable to drive response. However, others were seen with frequencies considered to be well above the threshold of diminishing returns.
In one major market, 31% of top customers targeted by the sales force were not visited at all during a six-month period. Average rep calls per day varied within a country by as much as 3 to 1. While most countries identified three target customer segments, each with a separate frequency goal, two of the largest countries had twelve or more target customer segments, making effective territory planning a very difficult, if not impossible, task for sales representatives.
Confronted with this rather bleak diagnosis of sales force performance, the company began to investigate the underlying causes. One culprit: the number of planned target calls for sales representatives often significantly exceeded their capacity to make calls -- by more than 100% in one case (see chart below). To deal with this simple (yet surprisingly common) problem most reps attempted to visit all the customers on their target list at least once. As a result, they were unable to achieve their frequency goals on the highest-value customers. The company also discovered its sales representatives often did not clearly understand the criteria for targeting customers. Some had profiled exceptionally high numbers of class I customers, while others had identified very few. The company quickly recognized that these variations in sales activity were having a serious adverse impact on sales and share.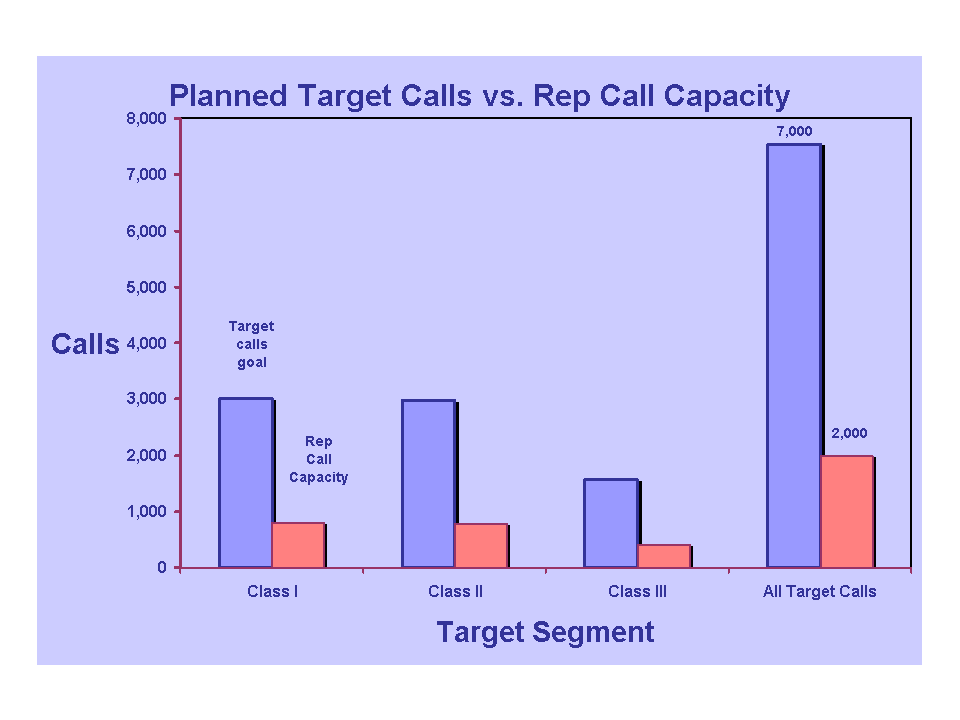 Chances for immediate improvement
After identifying several opportunities to improve sales effectiveness, the company focused on four key strategies with high potential for immediate impact. First, European managers worked with country managers to develop and communicate frequency range goals for each customer segment and expectations for sales representative calls per day. Second, management clarified the profiling and segmenting process so that reps consistently applied standard criteria to distinguish a call class I customer from a call class II or III customer. Third, management reviewed call capacity expectations (calls per rep X number of field days) and re-calibrated target frequency goals (number of target customers X frequency expectation) to ensure that call capacity matched planned target calls. Finally, the company standardized the segmentation process so that every country identified three major customer segments, each with its own frequency goal.
RMCI helped develop baseline metrics to measure frequency performance from a number of perspectives. The company considered several options and selected a metric that measured the efficiency of call delivery and the percentage of customers seen within a desired frequency range. The initial frequency performance varied widely across countries, ranging from 20% - 47% of targets seen with desired frequency in the five major markets.
For the first time, the company had a good understanding of both ongoing sales activity and activity performance against a defined baseline. Armed with this information, European management convened country managers to review the analysis and agree on new performance targets using the baseline frequency metric. These performance targets were incorporated into the compensation evaluation for each country manager.
After six months, European management re-examined call data and calculated frequency performance for each country using the frequency metric, with dramatic results. Most countries improved significantly – an average of 20% in the major 5. Frequency improvement was highly correlated with sales gains (see chart below). In this example, the frequency metric for affiliate C improved by 33 percentage points, from 47% in the first measurement to 80% at the second measurement, while sales increased by 12%.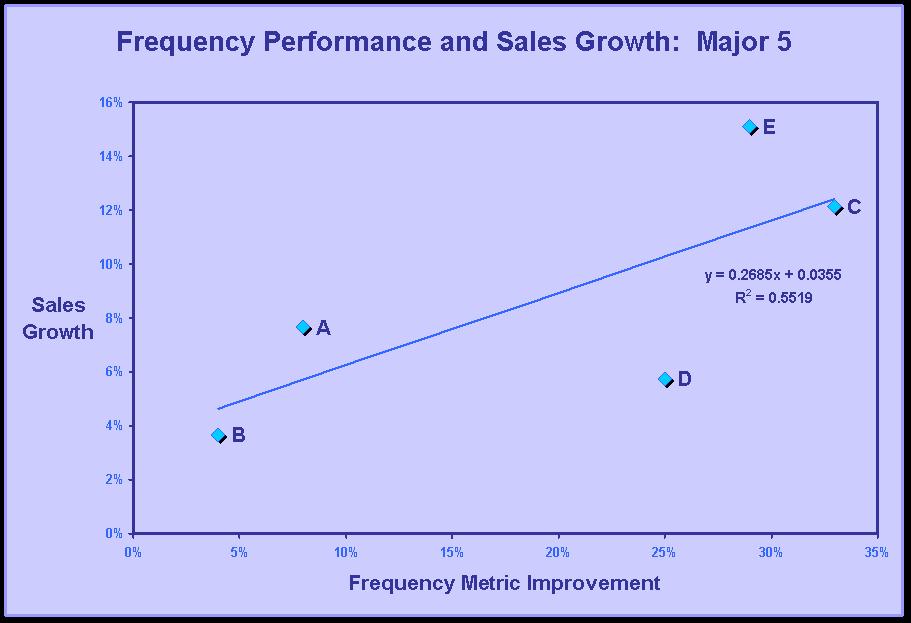 Focused and coordinated effort drives progress
Although this story has a happy ending, it is not a fairy tale. In the course of the SFE process, this company confronted a number of challenges that remain unresolved improvement opportunities. Country organizations that required more extensive customer re-targeting did not improve frequency performance as quickly as their counterparts who did not. Second, the centralized data collection and processing function is still experiencing growing pains as it learns to work with each of the country organizations.
Although some sales processes and definitions are now standard across Europe, unique local practices still inhibit efficient data processing and analysis. For instance, each country continues to have its own standard for what constitutes a sales call. In some countries, a group call or telephone call counts toward frequency performance. In others, only face to face visits between a single customer and single sales representative may be counted. Further, the central data warehouse function must learn and execute multiple sets of rules for extracting data to measure frequency performance.
But despite the inevitable difficulties and frustrations of moving along the learning curve, this case study demonstrates that companies can make significant, short-term progress in improving SFE with focused and coordinated effort . Companies that are serious about frequency, targeting or message improvement can make a big impact on the top line. In the six-month period we've described, analysis suggests that European sales attributable to improvement in frequency performance increased by $15.8 million or more than half the total sales increase.
We hope you will take encouragement from this case study and remember the two key lessons it teaches: 1) it is possible to make real, measurable, short-term progress in improving sales force effectiveness, and 2) real progress in sales effectiveness pays real dividends in improved top line performance.
Questions
If you have questions or would like to discuss the contents of this article, please send us an e-mail and a senior consultant will respond to you.
Other Newsletter Articles This Quarter
Sales Effectiveness in U.S. Account Settings
During the course of our work in hospital markets in the United States and worldwide, we've learned the basic building blocks of selling - targeting, frequency, message, and first-line manager coaching - are fundamental for any life sciences market. But in account settings, these key activities must often be implemented very differently than in retail markets to drive productivity. This article focuses on one of the key differences between office-based and account-based selling: information management and its implications for the selling process.
Building Internal Sales Planning Capabilities: New Desktop Sales Force Sizing Tool
Many life sciences companies have dedicated themselves to building internal sales force planning and sizing capabilities in country affiliates outside the United States. Until now, many have found it difficult to build these internal capabilities because software tools have not been developed to serve these specific needs.
That's why RMCI developed the Advisor XL to support our customers in building internal sales sizing expertise with a range of training and support options to meet the
needs of any country organization from Vietnam to France to Brazil.
Prior Newsletters
To view prior newsletters, please visit our News & Events web page.
Subscribe/Unsubscribe
Please click here to unsubscribe from the RMCI newsletter.
Copyright Notice
Copyright 2004, RM Consulting International. All rights reserved.
Every viewer may copy, reprint or forward all or part of this newsletter to friends, colleagues or customers, so long as any use is not for resale or profit and the following copyright notice is included intact: "Copyright 2004, RMCI. All rights reserved."
Contact Information
RM Consulting International
2717 Iroquois Road
Wilmette, IL 60091
Phone:(847) 251-2146
Fax:(847) 251-2292
info@rmcionline.com
http://www.rmcionline.com/